Biochar and Rock Dust for Nutrient Dense Food, Soil Fertility Restoration, and Carbon Sequestration
Groundbreaking research project with rock dust and biochar at New Harmony Farm in West Newbury, MA. [VIDEO]
"Never doubt that a small group of thoughtful, committed citizens can change the world. Indeed, it is the only thing that ever has."
Margaret Mead, Anthropologist
Working on solutions to some of the world's threatening environmental challenges and creating the world we want to live in is a thrilling opportunity. At Remineralize the Earth we are doing just that – working on research that has the potential to alleviate many of the environmental and agricultural problems humanity faces today, such as climate change, air pollution, unsustainable agriculture, and poor water quality. RTE is partnering with New Harmony Farm, a Community Suppoted Agriculture (CSA) organic farm in West Newbury, MA to conduct research on the use of ground rock dust, compost and a type of charcoal known as 'biochar' to improve the quality and amount of topsoil.
Innovative land management techniques could have a significant impact on ameliorating climate change if they act to remove CO2 from the atmosphere and store carbon in the soil. Designed by Dr. Thomas Goreau, a Board Director of RTE, the scientific study currently underway at New Harmony Farm aims to quantify nutrients in soil and plant matter, monitor growth rates of crop plants, soil carbon storage, and quantitatively measure greenhouse gas emissions from soil. The findings of this research will point the way to increasing crop yields and their nutritional value.
Ground rock powder weathers slowly, adding minerals to the soil over time.  This slow release allows the plants to take up the minerals through their roots more efficiently, resulting in a healthier and stronger plant. Compost is commonly used as another way of adding nutrients to the soil through degradation of organic materials and breaks down more quickly than rock dust.  Finally, biochar is known to have positive effects on soils with low fertility. It acts like a sponge, slowing down the rate at which nutrients are leached through the soil.  Biochar was used traditionally for thousands of years in the Amazon region of Brazil to improve the quality of the soil. These tropical soils are notoriously poor in fertility, and there is evidence that ancient Amazonian peoples discovered the technique of using biochar to improve soil quality. This evidence is still visible today in what is known as "terra preta" or "black earth" when compared to soils untreated with biochar in the same area.
Previous research has demonstrated that adding ground rock dust, compost and biochar added individually, enriches soil with minerals, reduces soil erosion, and increases the size and nutrient value of plants.  Although it is widely understood that these natural soil fertilizers should act even better in combination, there are few studies to determine the optimal combinations. The right combination of these three components will create a powerful synergy for enriching topsoil and increasing the health of plants. The research that is taking place at New Harmony Farm will reveal the most effective ratios under New England conditions.
While this research on the most efficacious ratios of compost, rock dust and biochar would be extremely valuable on its own, this study seeks to take the results one step further by analyzing not only plant and soil nutrients and biological activity, but also the effects of this innovative land management technique on soil carbon storage and greenhouse gas emissions.  Carbon is an element that exists in many forms in the world – as a gas in the form of carbon dioxide or as a building block of plant or animal organic material, or in other solid forms, such as charcoal.  Carbon dioxide, the major greenhouse gas in the atmosphere, can be transformed into non-gaseous forms through proper land management.  The scientists working on this project hypothesize that the use of biochar and rock dust should have the effect of reducing greenhouse gas emissions as compared to conventional methods using chemical fertilizers, which have the effect of increasing these emissions. This method of land management should produce a three-fold benefit: more fertile topsoil that is resistant to erosion, stronger and more nutritious plants, and reduction of greenhouse gases in the atmosphere.
Australia has taken the lead with a system of carbon credits already in place for agriculture to store carbon or reduce greenhouse gas emissions on the land. This helps the environment by encouraging sustainable farming and providing a source of funding for landscape restoration projects. We at RTE hope that the US and other countries will follow, providing an incentive for the kind of research and implementation we are doing and advocating.
Dr. Tom Goreau and Joanna Campe, executive director of RTE, met recently with researchers at the University of Massachusetts at Amherst and some of the organizing members of the upcoming North American Biochar Symposium, to be held October 13-16, 2013. Dr. Goreau has submitted an abstract for presentation at the symposium on the first two crop results using a wide range of rock dust and biochar combinations at New Harmony Farm.
As a result of the UMass meeting, the project will soon be expanded to include 500 square feet of greenhouse trials, partnering with Adam Dole of the New England Small Farms Institute (NESFI), a land-based, non-profit organization, founded to encourage more sustainable regional agriculture and promote small farm development.
Help Sustain Our Groundbreaking Research Project

The New Harmony Farm study is cutting-edge in its scope and has important implications for global climate, agriculture and the environment. This project has gone forward in the first year without funding.  It has progressed only due to in-kind donations of materials and time by unpaid volunteers. While RTE is actively pursuing larger funding to cover a three year period, in the interim donations are needed to cover the costs of soil and plant testing (an amount of roughly $3,000) associated with this work.   Please consider a tax-deductible donation in any amount to this unique and important project.  Contributing to sustain this research project will help to move the world toward a healthier, more sustainable future.
New Harmony Farm CSA will be holding a series of fundraising events for the research project. Please check their website for more information:
http://www.newharmonyfarm.com/?p=817
References
Biochar Information. http://biochar.info/biochar.terra-preta.cfml
Gibbons, Whit. "What are our top ten environmental problems?" Athens, GA. 2006. http://srel.uga.edu/ecoviews/ecoview060326.htm
Lehmann, Johannes; Jose Pereira da Silva Jr, Christoph Steiner, Thomas Nehls, Wolfgang Zech and Bruno Glazer. "Nutrient Availability and Leaching in an Archaeological Anthrosol and Ferrosol of the Central Amazon Basin: Fertilizer, Manure and Charcoal Amendments." Plant and Soil, 249: 343-347. 2003.
Margaret Mead Quotes.  http://www.brainyquote.com/quotes/authors/m/margaret_mead.html
Campe, Joanna; Dan Kittredge, Lee Klinger. "The Potential of Remineralization with Rock Mineral Fines to Transform Agriculture, Forests, Sustainable Biofuels Production, Sequester Carbon, and Stabilize the Climate."  Northampton, MA. 2012. https://www.remineralize.org/administrator/components/com_jresearch/files/publications/Rio%20Summit-RTE-2012.pdf
Dr. Thomas Goreau
Tom Goreau is President of the Global Coral Reef Alliance, a non-profit organization for coral reef protection and sustainable management, and Coordinator of the United Nations Commission on Sustainable Development Partnership in New Technologies for Small Island Developing States. He has published around 200 papers on global climate change, the global carbon cycle, stabilization of atmospheric CO2, tropical deforestation and reforestation, microbiology, soil science, atmospheric chemistry, community-based coastal zone management, mathematical modeling of climate records and other fields. He was educated at MIT (B.Sc in Planetary Physics), Caltech (M.Sc in Planetary Astronomy), Yale, Woods Hole Oceanographic Institution, and Harvard (Ph.D. in Biogeochemistry).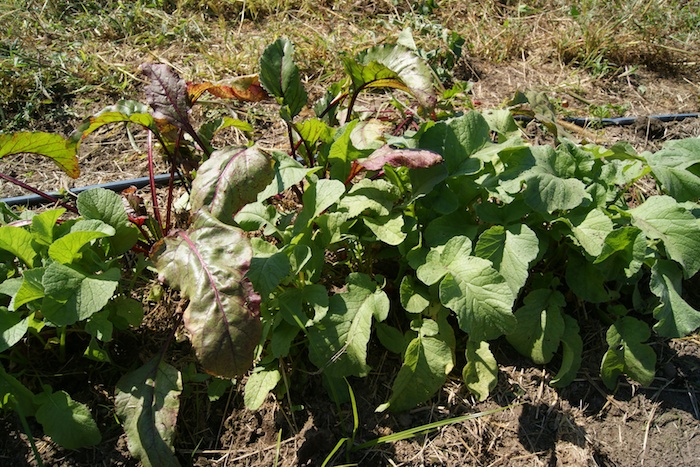 Support us on Patreon
Thank you for joining us today! Please become a member of RTE and support us on Patreon. Unlike many larger organizations, we work with a team of determined and passionate volunteers to get our message out. We aim to continue to increase the awareness of remineralization to initiate projects across the globe that remineralize soils, grow nutrient dense food, regenerate our forests' and stabilize the climate – with your help! If you can, please support us on a monthly basis from just $2, rest assured that you are making a big impact every single month in support of our mission. Thank you!
---
4 Replies to "Biochar and Rock Dust for Nutrient Dense Food, Soil Fertility Restoration, and Carbon Sequestration"
emma

July 14, 2017 (2:19 am)

hello, where can i find the results of this study please? thankyou

Gwill Jones

October 26, 2018 (10:46 am)

i would like the results of the study as well please.
gwilljones@gmail.com

Joanna Campe

October 26, 2018 (12:55 pm)

There is an article on the website on this project. The study has been published in our book CRC Press published Geotherapy: Innovative Methods of Soil Fertility Restoration, Carbon Sequestration, and Reversing CO2 Increase (CRC Press), by Goreau, Campe and Larson.
---