Rock Dust, Mother Earth's Milk
Compost supplemented with rock dust is assisting the sustainability of Sinaloa's farmers after last year's cold snap. Last February a cold snap that lasted one week destroyed 90% of the corn crop in the Mexican State of Sinaloa in what many have been described as the worst disaster in Sinaloa's history. Other crops such as tomatoes, chickpeas, green beans, squash, and chilli peppers were also devastated. Thousands of farmers were affected with the overall cost estimated at $23 billion.
Eco-Agro Earth Day Message in Spanish Click here
Eco-Agro, a Mexican company dedicated to the research and commercialization of organic alternatives to industrial fertilizers, is providing farmers with organic fertilizers supplemented with silicate rock dust to ensure the sustainability of Sinaloa's producers. Based in Guamúchil, Sinaloa, Eco-Agro has been at the forefront of campaigns promoting the use of rock dust in and out of Mexico, highlighting both its fertilizing properties and its role in increasing the resistance of plants to pests. The company was founded as a collaborative so that farmers could combine their knowledge base and resources for a sustainable agriculture. In the words of president Bernardo Castro Medina, Eco-Agro "is a company that brings together many fellow producers who can share their experiences."
Eco-Agro organic fertilizer is made up of worm leachate containing 5-6% mycorrhizae, a natural way of providing nitrogen to nutrient-poor soils, and 5-6% silicate rock dust with 52% silica and more than 70 trace elements. Rock dust is an essential ingredient in this compost; it not only accelerates the composting process inducing the growth of microorganisms but also provides depleted soils with a wide range of minerals and trace elements for healthy and nutrient-rich plant growth. It has also been shown to be a valuable ingredient for feeding worms, which grow bigger when fed with rock dust. Eco-Agro has been running several projects in Sinaloa, particularly corn and sorghum with excellent results. "Although the cold snap decimated crops treated with organic fertilizers, too", said Bernardo in a recent interview for RTE, "corn and sorghum treated with our compost grew stronger than crops cultivated with industrial fertilizers, and also seemed to resist frost better."
In the face of the shrinking budget of farmers affected by the cold snap, promoting the use of organic alternatives to industrial fertilizers and pesticides is more difficult than ever. "Farmers are not driven by ecology", says Bernardo, "but prices."To provide a cheaper alternative than industrial fertilizers, Eco-Agro has begun producing compost containing rock dust with cattle manure replacing worm leachate, which needs 6-7 months to be produced and is too expensive for Sinaloa's farmers. Sinaloa is the state with the highest production of corn in Mexico, growing 28% of total national production. The Mexican government has bought
1300 tons of Eco-Agro's "Composta Humificada Micorrizada y Remineralizada" (remineralized and humified compost with mycorrhizae), to provide Sinaloa's farmers with a sustainable alternative to industrial fertilizers for growing corn and other crops such as peanuts, sorghum, and sesame. Although it is too early to have conclusive results, favorable results in crops treated with this compost is already observable.
In its official website, Eco-Agro offers testimonials of farmers using rock dust as well as videos in Spanish that explain the production of rock dust and the rationale behind its use. For more information:
Eco-Agro organizes several workshops and conferences every year on organic farming.
In the last ExpoAgro, which took place this February in Culiacan and enjoyed widespread media coverage, Eco-Agro compared corn treated with industrial fertilizers to corn treated with remineralized compost –a cheaper, healthier and sustainable alternative according to Eco-Agro– with the last showing markedly higher growth and health. Eco-Agro will present the 'VIII Taller Internacional de Agricultura Orgánica' (VIII International Workshop on Organic Farming) on 22-26 May 2012, and the "14va Exposición Agropecuaria Sustentable Holística" (14th Holistic Sustainable Agricultural Exhibition) on 25-27 May 2012. For more information www.Ecoagrounpasomas.com.
Additional Media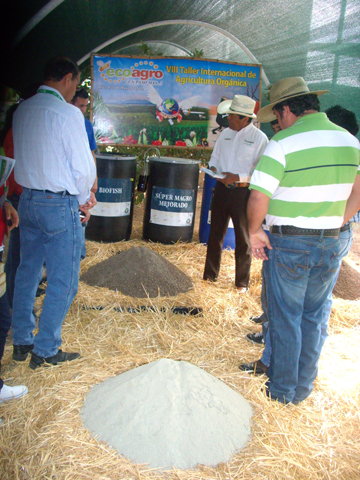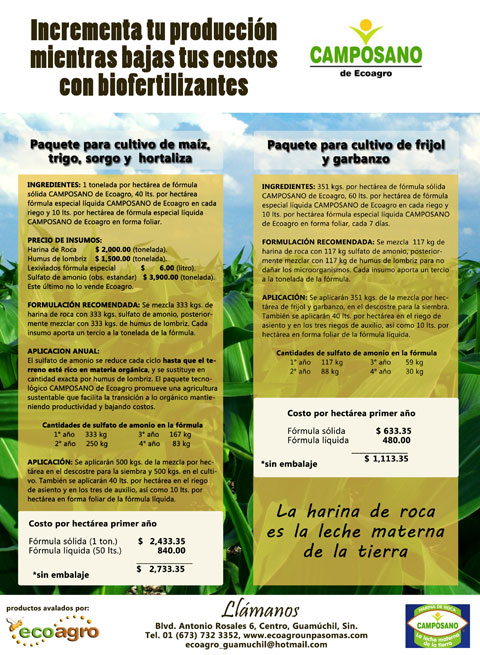 Support us on Patreon
Thank you for joining us today! Please become a member of RTE and support us on Patreon. Unlike many larger organizations, we work with a team of determined and passionate volunteers to get our message out. We aim to continue to increase the awareness of remineralization to initiate projects across the globe that remineralize soils, grow nutrient dense food, regenerate our forests' and stabilize the climate – with your help! If you can, please support us on a monthly basis from just $2, rest assured that you are making a big impact every single month in support of our mission. Thank you!
---