Remineralize the Earth Under Sponsorship!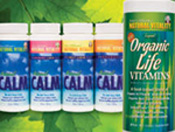 Remineralize the Earth is being generously sponsored by Natural Vitality under the company's Natural Revitalization program. As part of the program's aim to address global warming, RTE will be receiving a percentage of Natural Vitality's profits in 2007. The company will also play an integral role in helping us expand our membership base and has designed the new logo for Remineralize the Earth seen here. Click here to read the press release!
Support us on Patreon
Thank you for joining us today! Please become a member of RTE and support us on Patreon. Unlike many larger organizations, we work with a team of determined and passionate volunteers to get our message out. We aim to continue to increase the awareness of remineralization to initiate projects across the globe that remineralize soils, grow nutrient dense food, regenerate our forests' and stabilize the climate – with your help! If you can, please support us on a monthly basis from just $2, rest assured that you are making a big impact every single month in support of our mission. Thank you!
---