Exciting Community Projects Underway with Grant from Judith Haskell Brewer Fund
We are excited to announce that in April 2014, the Judith Haskell Brewer Fund of the Community Foundation Serving Richmond and Central Virginia has donated $5,000 to support Remineralize the Earth initiatives.
According to the grant letter,
Judith believed in uplifting the world through beauty, science, arts, and education. She was committed to addressing widespread human suffering and was a deeply spiritual and private woman who sought refuge in beautiful, peaceful, natural environments. She showed compassion to, and acceptance of, others and believed in helping people to help themselves achieve self-reliance. It is the intent of the Fund's Advisory Committee that, through grants from this Fund, her values and beliefs will be illuminated, honored, and upheld.
We believe these ideals fit well with the mission of RTE and are very grateful for this generous grant. These funds will seed local initiatives to create a resilient remineralization network here in the Pioneer Valley and beyond. These new initiatives serve as community demonstration projects of research currently underway at the UMass Deerfield research site and the Agricultural Learning Center, supervised by Professor Stephen Herbert. With our emphasis on facilitating international networks, this will allow us to create a strong and visible local presence. As a result of receiving this grant, these initiatives are being supported with many in-kind donations.
Research began this spring of 2014 at Brook's Bend Farm in collaboration with Owen Wormser of Abound Design, the Clearpath School of Herbal Medicine. Analysis is underway after the fall harvest to determine increased growth and nutrient density with varying combinations of rock dust, biochar and compost.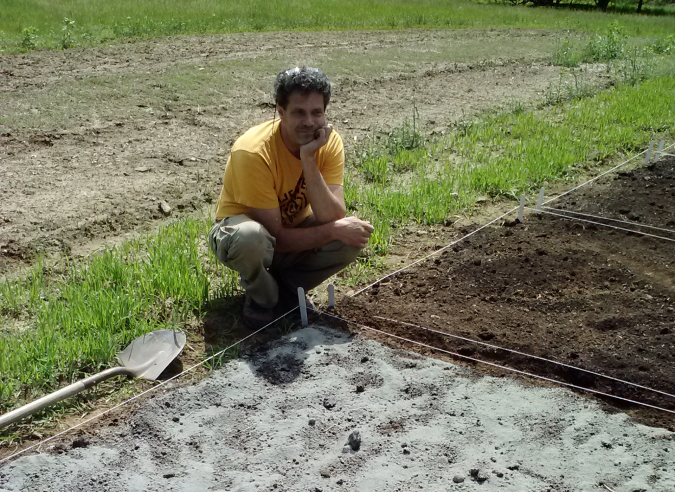 Chris Marano, director of the Clearpath School of Herbal Medicine surveying a demonstration plot amended with local basalt rock dust.
Beginning this fall, high school students at the Paulo Freire Social Justice Charter School (PFSJ) will implement a hands-on science experiment that will span three semesters. The Fall 2014 semester will focus on the construction of test plots and adding rock dust and compost. During Spring 2015, students will plant crops valued by the Puerto Rican community (aji dulce peppers, cilantro, and calabaza) and in Fall 2015, students will harvest the foods they planted as well as collect and analyze data. They will contribute the results of the study to our online research database. The environmental science class will include the studies of geology, soils and agriculture, and remineralization.
We will be exploring future initiatives with organizations like Nuestras Raices in Holyoke and the Dudley Street Initiative in Boston. We are very grateful to the Judith Haskell Brewer Fund for this opportunity!
Support us on Patreon
Thank you for joining us today! Please become a member of RTE and support us on Patreon. Unlike many larger organizations, we work with a team of determined and passionate volunteers to get our message out. We aim to continue to increase the awareness of remineralization to initiate projects across the globe that remineralize soils, grow nutrient dense food, regenerate our forests' and stabilize the climate – with your help! If you can, please support us on a monthly basis from just $2, rest assured that you are making a big impact every single month in support of our mission. Thank you!
---