Swedish Recognition for SEER Rockdust Magic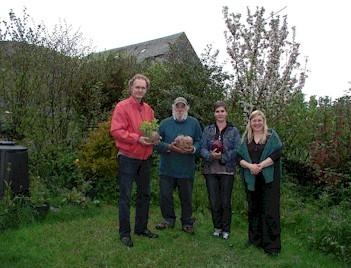 Swedish Recognition for SEER Rockdust Magic
The fast growing popularity of the soil remineralizing SEER Rockdust has spread across the North Sea to Sweden.
Swedish Recognition for SEER Rockdust Magic
by Jennifer Cook
The fast growing popularity of the soil remineralizing SEER Rockdust has spread across the North Sea to Sweden.
The fast growing popularity of the soil remineralizing SEER Rockdust has spread across the North Sea to Sweden. Angus Horticulture Ltd, who markets the organically approved product on behalf of Rockdust Ltd, which is the trading arm of the SEER Centre Trust, despatched their product to Wiksunds Tradgard, www.wiksundtsradgard.se , who are based 20 minutes from the center of Stockholm.
The development came about because the pioneering work of Cameron and Moira Thomson at the SEER Centre near Pitlochry was featured in Graham Harvey's seminal book We Want Real Food. This was spotted by Swedish journalist, Henrik Ennart, who visited the SEER Centre in Autumn last year. He was so inspired by what he saw growing in these remote Highland gardens that he got a feature published in the leading Swedish 'Svenska Dagbladet' newspaper. "The subsequent Swedish demand for the product has been fantastic," states Jennifer Cook, Sales and Marketing Manager, with Angus Horticulture Ltd.
Speaking from an ecological point of view Cameron Thomson states "We would definitely like to work with Sweden to source and approve suitable SEER Rockdust of their own. As a first move, however we are happy to start by exporting some Scottish SEER Rockdust, to show the Swedes that we have something that works."
Lars Angstrom and his wife, Katharina, who run Wiksund Tradgard, visited the SEER Centre this week. In Lars opinion "Cameron and Moira's work is fantastic as it hits the spot where so many of the 21st Century's problems, and the understanding of these problems, coincide. By remineralizing the soil we recognize we are not only improving the quality, taste and nutritional value of the crops, but we are also helping the crops improve their pest and drought resistance and reducing the pollution run off of synthetic fertilizers. SEER Rockdust also has a significant part to play in climate change by taking the CO2 out of the atmosphere." Lars, who has parallels of his own with Scotland having just completed an 8 year stint as a Swedish Green member of Parliament, confirms "We are very excited to get this opportunity to work with SEER to develop this potential throughout Sweden and Scandinavia." Meanwhile Cameron and Moira Thomson are looking forward to a trip to Sweden, in the first week in June, to help Swedish customers understand and realize the potential of the SEER Rockdust.
CONTACTS: Jennifer A Cook, Sales and Marketing Manager, Angus Horticulture Ltd, Polmood, Guthrie, By Forfar, ANGUS DD8 2TW; jen@angus-horticulture.co.uk; www.angus-horticulture.co.uk M: 07715 707009 Cameron and Moira Thomson; www.seercentre.org.uk; T: 01250 870180
Support us on Patreon
Thank you for joining us today! Please become a member of RTE and support us on Patreon. Unlike many larger organizations, we work with a team of determined and passionate volunteers to get our message out. We aim to continue to increase the awareness of remineralization to initiate projects across the globe that remineralize soils, grow nutrient dense food, regenerate our forests' and stabilize the climate – with your help! If you can, please support us on a monthly basis from just $2, rest assured that you are making a big impact every single month in support of our mission. Thank you!
---