Join a Competition for Remineralized Carrots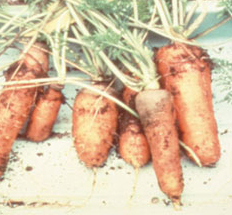 Join a Competition for Remineralized Carrots
The June issue of Acres, USA, The Voice of Eco-Agriculture, is focused on minerals. In the article The Quest for Nutrient Density, by John C. Frank at International Ag-Labs, a competition has been created for all interested growers to grow the most nutrient dense carrots possible. We would like to invite remineralizers to submit their carrots for the competition. They will be analyzing a number of samples from various commercial growers, including Bob Cannard, who grows carrots for Alice Water's Chez Panisse Restaurant. The results of the carrot competition, with some statistical analysis, will be made available to the public. Those producing carrots in the top ten brix level will be asked to submit their carrots for a free nutritional analysis. More information is available at the International Ag-Labs website, www.aglabs.com. You can also contact Acres, USA for more information.
Support us on Patreon
Thank you for joining us today! Please become a member of RTE and support us on Patreon. Unlike many larger organizations, we work with a team of determined and passionate volunteers to get our message out. We aim to continue to increase the awareness of remineralization to initiate projects across the globe that remineralize soils, grow nutrient dense food, regenerate our forests' and stabilize the climate – with your help! If you can, please support us on a monthly basis from just $2, rest assured that you are making a big impact every single month in support of our mission. Thank you!
Join Us to Address Food Security in Kilimanjaro
The Kilimanjaro Project supplies local small-scale farmers with "Rutubisha" (an all-natural fertilizer with rock dust, biochar, and compost manure), and trains them to grow healthy crops and nutrient-dense foods, leading to increased income, better lives, more resilient communities, healthier people, and food security now and in the future.
Every bit helps, even $10 can help reach our goals, and a contribution of $100 is enough to sponsor a small-scale farmer and their family for 2-3 years.
Donate today to create economic opportunities and food security for small farmers in Tanzania!
---